Custom Maps at your fingertips
We can design and create your own custom 3D Map on request.
Just fill in your details below and one of our team members will be in touch:
Unique and exclusive to Modern Prints, our 3D Street Maps is the perfect gift or addition to your home or interior space. Beautifully finished with a black frame and background, these on-of-a-kind 3D Street Maps are a perfect addition to your home décor.
With many cities to choose from including Australian cities and also cities from around the world, you're sure to find one that holds a special memory in your heart. It also makes for the perfect sentimental gift that speaks of a special occasion or of your home town.
How are the 3D Street Maps made?
Our team of graphic artists create unique prints that offer a minimalist, 3D look to compliment any décor and interior style. Firstly each map is curated perfectly to display the delicate streets in the heart of the city. Each map is then CNC cut and offset on a black background.
These unique pieces come alive by cutting into 3mm white aluminium composite panels – creating an amazing finish from all angles. Each map is then carefully assembled into a classic, L-shape moulding in a black wooden matte finish.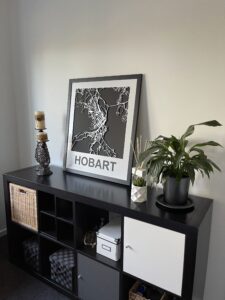 Details
Artwork Dimensions: Approx. 600mm (w) x 700mm (h) x 3mm (d)
Style: Contemporary
Frame Colour: BLACK
Artwork Colour: White ACP (aluminium composite panel) with black backing board
Outer Dimensions
Approx. 650mm (w) x 750mm (h) x 10mm (d)